Recently I had the opportunity to purchase a jubilee Zenith-3M. Although, various kinds of stamps do not cause me any special feelings, but, as they say, he called himself a load ....

In 1967, the USSR was celebrating 50 years since the start of the Great October Revolution and many photo companies marked their equipment this year with holiday stamps and/or specially designed boxes and instructions.

Anniversary cameras were produced only in 1967, or perhaps as early as 1966, therefore, there are not so many of them. Therefore, such devices are welcome guests in collections.

So I started such a Zenith-3M. Let it be.

This is my second Zenit-3M.

The first is an earlier device from 1965 with the number 65088963. Export version. Here is his classic review.

Now we will consider the anniversary version of 1967 with the number 67096210

Zenit-3M anniversary
The most notable differences are two.



The name of the 1967 model is printed in Cyrillic and a festive stamp is placed on the top of the pentaprism casing. The stamp is two-colored, Soviet chopped, but for my taste, not devoid of an idea, artistic dynamics and attractive in that way.



If you look closely, you can see that the name of the earlier version is engraved under the paint, while the later version is silk-screened.

Even on the memo of film sensitivity, the scales are different. In the 1967 model, the values are shifted towards greater sensitivity and the values are more modern. The inscription on the memo is also, of course, in Cyrillic.

On the rear panel, the difference is in the location of the serial numbers and the earlier export version has the inscription Made in USSR.

Here, in general, that's all. There will be some larger photos below.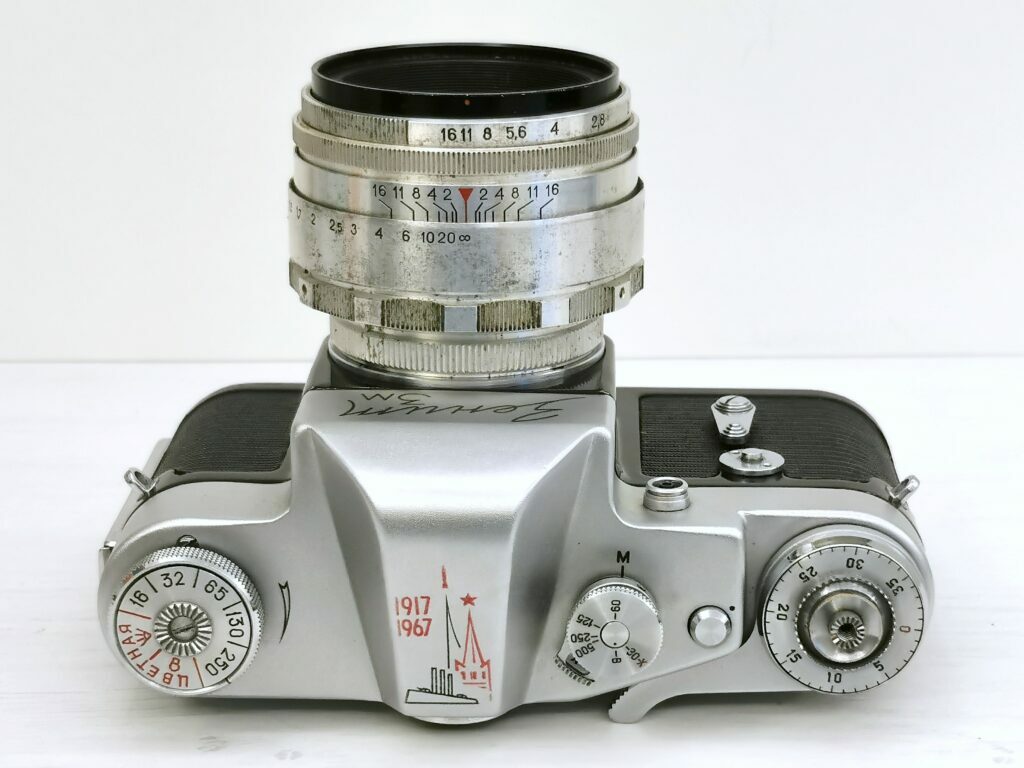 Source fotoussr.ru