Tele-5 is a telephoto lens for medium format cameras such as Kyiv-6S, Kyiv-60, Salyut and Kyiv-88.

Telear-5 was produced with two types of mounts - for bayonet B (for Kyiv-6C and -60 cameras) and B (for Salyut and Kyiv-88 cameras).

Today Telear-5 is relatively rare. Moreover, according to my subjective observations, the option with B mount comes across less often.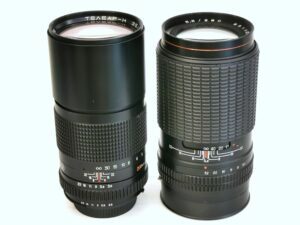 I know of only two Soviet lenses based on the Telear optical design. The first one is Telear-N 3.5/200 for Kyiv devices with H mount, the second one is the hero of the review Telear-5B 5.6/250 for Kyiv medium format cameras.

The history of the scheme, as well as why only Arsenal used it, is unknown to me.

For a medium format user, Telear-5 gave a picture equivalent to 135 mm in full frame. If it's not very clear what I mean, check out the article on crops.

In the review, a lens with a B mount, produced at the Kiev Arsenal plant in 1992 with the number 921109.

Optical design:
Focal length: 250mm
Angle of view: 18°
Frame size: 60×60mm
Number of lenses/groups: 5/5
Working length - 74.1 mm



Relative aperture: 1:5.6
Aperture scale limits: 1:5.6–1:32
Number of aperture blades - 6
Aperture adjustment - "Blinking"
Near focus limit - 2.5 m
Resolution (center / edge) - 55/40 lines / mm.

Connections:
camera lens - Bayonet B
Filter mount location: front

Weight - 734 grams

Telear-5B - the lens is very long and weighty.



The shape is cylindrical.

The lens has multi-coated greenish-violet hues.

The name is written in Latin, but the letter "B" denoting the type of bayonet is written, as always in Soviet practice, in Cyrillic.

Therefore, the full name looks like MS TELEAR-5B. This confusion is sometimes found on other lenses. Specifically, this lens is often referred to as TELEAR-56. Focusing only on the inscription, indeed, it is read exactly as "56".

The focus ring is very wide with a comfortable rubber-like corrugation.

The full stroke of the helicoid is slightly less than 180 degrees. The ring moves smoothly.

The aperture control ring is closest to the device.

Apertures switch with clear clicks and with stops in the main and intermediate positions.



There are 6 aperture blades, they are gray and rather shiny.

Tele-5B has a blinking aperture and you can automatically close it, of course, only on the corresponding camera - Kyiv-60, for example.

However, the design of the diaphragm drive is successful in that to close it to the working value, the pusher must not be pressed, but, on the contrary, released.

On the Kyiv-60 camera, during framing, the pusher is pressed all the time, while the diaphragm is open. While pressing the shutter button, the pusher is released and the aperture is covered to the working value.

Thanks to this feature, the lens, being put on modern devices through an adapter, allows you to control the aperture in manual mode without any problems. The pusher is never pressed and therefore the aperture is always covered to the working value, which can be changed by turning the ring.

I will note the f32 aperture limit.

Is it worth looking for Telear-5B for a modern SLR?

No, I don't think it's worth it.

A 250mm FR is a very specific focal length. The lens is sharpened for shooting distant objects.

And why do you need it with a manual lens?

Even if you suddenly really need to shoot with an approximation, then 250 mm is not so much. Tair-3 will inexpensively offer 300 mm, and the MTO series - from 500.



For portrait photography, 250mm is a bit too much for my taste. Yes, the background is blurred a lot. But you need to deviate very far from the model, this is not always possible.

For creative shooting, MDF as much as 2.5 meters is not always suitable. You can't take every little thing big.

The lens is dark - at open f5.6. At the same time, this instance is a little soft. I do not know if this can be attributed to the entire model.

My 28-300 3,5-5,6 at 250 mm sets exactly the same f5,6. No advantage in aperture ratio from Telear-5B.

Moreover, if someone thinks that at f5,6 you can comfortably shoot distant objects, then this is not so.

Long focal length lenses have a very narrow depth of field. F5.6, which is already considered "covered" for normal lenses, and when focusing, for example, at 20 meters, provides the far border of the depth of field in the region of infinity. At Telear-5B, under the same conditions, the far border will be about 30 meters.

This is according to the Soviet IPIG jackals. On the figure is still stricter.

And here is the calculation with a modern DOF calculator. HFR at F32 (that's why it is needed) is obtained with a focus of 65 meters.

In general, everything is not easy. Although, this is not a specific lens problem, but all telephoto ones.

To be fair, the following should be noted.

Not all regular zooms offer a FR of 200-300 mm, and if you really need to shoot with an approximation, then the version of the Soviet telephoto lens is a normal option. Much cheaper than buying something modern.

Tele-5B (not -5V) - will fit on many digital cameras without any problems. In particular, on Nikon DSLRs.



There is, however, a more affordable option - Tair-3A 4.5 / 300. It is also more aperture and brings closer. There is also a medium format lens - Jupiter-36B 3.5 / 250. Even more aperture with a similar FR.

And one more advantage behind these lenses is that they are good as a weapon of self-defense. As a club.

It's hard to take them off your hands. But Telear-5B - it is no larger than my 28-300 in the 250 position.

As for the low aperture, f5.6 is, in principle, enough for focusing. And for the picture anyway, most likely, you will need to press it to f8 or even more.

Something like that.

That's all I have, good luck with your shots this summer!


Source fotoussr.ru