At the Adobe Max 2018 conference, Adobe announced a series of major updates for its products. For example, improved search using artificial intelligence Adobe Sensei and new features for sharing images for Lightroom CC; simultaneous panorama and HDR gluing for Lightroom Classic CC and Adobe Camera Raw.

And it seems that the two versions of Lightroom will evolve in slightly different directions. At least for now.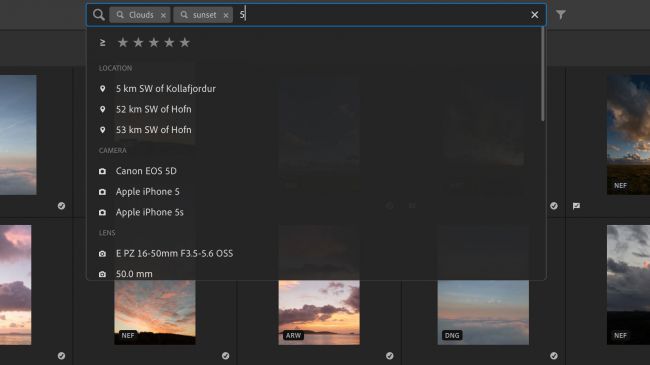 Lightroom CC Updates
Lightroom CC has received a new option People View, which allows you to quickly find "people who care about you." That is, the program will automatically assign tags to the people in the photos so that you can find them in all the pictures where they are present. People View will be available on Mac, Windows, iOS, Android, and ChromeOS.

In fact, Adobe has improved the Lightroom CC search tools by adding automatic suggestions for search results, which are displayed when the word is printed. These suggestions are based on image metadata, such as used camera, lens, aperture, ISO, shooting location or keywords.


Sharing options have also been improved - the Sharing section will allow you to easily view and share albums and images created using the Adobe website. Albums can be shared directly to the Adobe Portfolio service using the new Connectors technology.


In mobile versions of Lightroom CC, it will be possible to share images based on flags or ratings.

An interesting point - Adobe added the Apple Photos Migrator option, which allows you to move the image library from the Apple cloud service to the Adobe service. Apparently, this, coupled with the option to search for people, was done to attract more new users to the Lightroom CC ecosystem.

Updates for Lightroom Classic CC and Adobe Camera Raw
But Adobe is determined not to lose the existing users working primarily with the PC version of Lightroom. Therefore, Lightroom Classic CC also received several innovations. The emphasis is on improving productivity and processing capabilities.

Fans of HDR and panoramas will now be able to combine them at the same time, with the new HDR Panorama Merge feature. That is, it will be possible to immediately stitch pictures into a panorama with an extended dynamic range. Previously, it was a long process in two stages. This feature is also available in Adobe Camera Raw.


Also, the Lightroom Classic CC has been improved for remote control of Canon cameras. The changes affected the speed and stability of image transmission - everything will work 1.5-2 times faster. According to Adobe, the company is now working on the same improvements for Nikon cameras - they will be introduced in the next product update.

Another innovation in Lightroom Classic CC and Adobe Camera Raw is the Depth Range masking tool, which allows you to more accurately and quickly select objects to create masks based on depth data (that is, the position of the object in three-dimensional space). However, the tool will not work with any photograph - to use it, you will need pictures from modern smartphones, where information about the position of the subject is recorded as a separate image channel. Such a function, for example, is available on the iPhone when shooting in portrait mode.

As with Photoshop CC, the improvements to Lightroom and Adobe Camera Raw are more superficial, not revolutionary. Lightroom CC has not yet received all the features of Lightroom Classic CC, and Lightroom Classic CC, in turn, does not have such search capabilities as Lightroom CC.