The most expensive photos always cause curiosity and surprise. Some of them need to be viewed in galleries, the popularity of others is completely inexplicable. What makes buyers pay such amounts for photos? See for yourself.

We suggest you familiarize yourself with the 15 most expensive photographs in the world.
1. Phantom (2014) - $ 6.5 million

Photographer - Peter Lik
Australian photographer Peter Lick broke all records last December - his black-and-white photograph called Phantom was bought for $ 6.5 million. The same private collector, who chose to remain anonymous, on this day acquired two more pictures - "Eternal Moods" and "Illusion". The total purchase amount amounted to 10 million dollars.

"The purpose of my photos is to capture the power of nature," says Lick. Phantom is a black and white version of a photo called Phantom. It captures Antelope Canyon (Arizona), and the "ghost" is dust swirling in a ray of light.
2. "Rhine II" (1999) - $ 4.3 million.

Photographer - Andreas Gursky
German photographer Andreas Gursky is famous for his wide-format shots of architecture and landscapes. In 1999, he made a series of six photographs of the Rhine, the largest and most famous of which was Rhine II. "For me, this is an allegorical depiction of the meaning of life," the author says. To achieve the impression of a desert landscape, he had to remove some elements from the image on a computer: the factory building, pedestrians, cyclists.

A chrome-plated imprint on acrylic glass measuring 1.9 × 3.6 m (in a frame that increased the size of the artifact to 2.1 × 3.8 m) was sold in 2011 at Christie's auction for $ 4.3 million, customer identity is unknown.
3. "Untitled No. 96" (1981) - $ 3.9 million.

Photographer - Cindy Sherman
The works of Cindy Sherman, famous for her provocative self-portraits, are very popular among collectors. She does not give names to her photographs, giving viewers the opportunity to think through the depicted story themselves. "No. 96" is one of the 12 Centerfold series photos commissioned by ArtForum magazine. The heroine in the picture (of course, Sherman herself) is a teenage girl. She holds dating ads cut from newspapers, symbolizing her willingness to leave her childhood behind and her desire to find her man.

At one time, "No. 96", sold at Christie's auction for $ 3.9 million, was the most expensive photograph in the world.
4. "Talk of the dead soldiers" (1992) - $ 3.6 million.

Photographer - Jeff Wall
The subtitle explains the story depicted in the photograph, "Vision after an ambush that hit a patrol of the Soviet army near Mokor, Afghanistan, winter of 1986". However, this is not a picture from nature: the Canadian photographer Jeff Wall (whom Andreas Gursky called his role model) was not in Afghanistan. The photo was created in the studio, the people on it are actors. "The Talk of the Dead Soldiers is not a commentary on the Afghan war," the author says. "I just wanted to create an image in which the dead soldiers talk to each other, I have no idea why."

In 2012, again at the Christie's auction, the photograph was sold for $ 3.6 million.
5. "99 cents. Diptych "(2001) - $ 3.3 million.

Photographer - Andreas Gursky
Another, or rather, two works by Andreas Gursky. The two photographs that make up the diptych depict the interior of one of the shops, where everything is sold for 99 cents. The long rows, lined with bright boxes of goods, reflected in the glass ceiling, reinforce the feeling of endless consumerism in modern society. A 2.07 x 3.37 meter print was sold for $ 3.3 million in 2007.
6. "Lake in the moonlight" (1904) - $ 2.9 million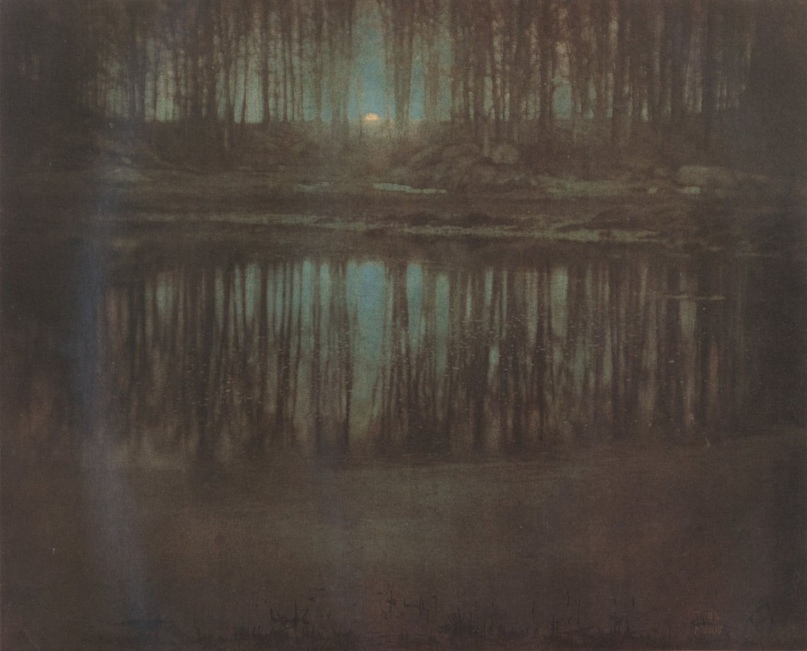 Photographer - Edward Steichen
A photograph taken in 1904 depicts a lake and a forest, through whose trees moonlight breaks through. At the beginning of the 20th century, color photographs were extremely rare, and the "Lake in the Moonlight" was painted manually by the author using the autochromic method (potato starch granules filled with paints of different colors were applied to the film). To date, there are only three options for a picture. All of them have their own gamut of shades, since each frame was painted separately.

In 2006, one of them was sold at Sotheby's for $ 2.9 million.
7. "Untitled No. 153" (1985) - $ 2.7 million

Photographer - Cindy Sherman
As Cindy Sherman herself admitted, her main fear is to die a terrible death and photos such as No. 153 are an attempt to reconcile herself with him, to prepare for the unthinkable. "Do not be scared and look away," she says about her picture, "this is not real, it is a production, a fairy tale." In 2010, an almost two-meter gloomy photo was sold at auction for $ 2.7 million.
8. "Billy Kid" (1879–1880) - $ 2.3 million

Photographer unknown
A photograph of the famous criminal Billy Kid, taken at the end of the 19th century by the ferrotype method, was sold in 2011 to an American collector for $ 2.3 million. The reason for such a fabulous price is not in the special artistic value of the picture, but in its uniqueness - this is the only officially confirmed photograph of Kid.

True, recently the auction house Kagin's, Inc. declared another photograph, allegedly depicting Billy Kid playing croquet.
9. "Tobolsk Kremlin" (2009) - $ 1.7 million

Photographer - Dmitry Medvedev
A photograph of the Tobolsk Kremlin, made by Dmitry Medvedev (at that time the President of the Russian Federation), was sold at the Christmas Alphabet charity auction. Usually, paintings by famous politicians are put up for sale on it. So, in 2009, Vladimir Putin's authorship drawing brought 37 million rubles to the charity foundation.

Dmitry Medvedev did not have time to write a picture due to a busy schedule, but he proposed as an alternative a photograph of a Tobolsk landmark taken from a bird's eye view. The picture was bought for 51 million rubles.
10. "Naked body" (1925) - $ 1.6 million.

Photographer - Edward Weston



The works of the American photographer Edward Weston are characterized by very clear, sharp images, the desire for unexpected shooting objects in which everyone can see something of their own. "Naked body" (one of Weston's many photographs of nude models) is no exception. Looking at her, you do not immediately understand what is depicted. Maybe it's a person, or maybe a sculpture or an element of the landscape. Androgynous forms of the model further emphasize the abstract beauty of the picture.

In 2008, at the Sotheby's auction, $ 1.6 million was paid for this work.
11. "Georgia O'Keefe. Hands "(1919) - $ 1.4 million.

Photographer - Alfred Stieglitz
Alfred Stiglitz had two passions in his life - photography and Georgia O'Keefe. Over the 50 years of his career, he has struggled for society to accept photography as art, with its own language, motives, and genres. He fell in love with the artist O'Keef for her work, before even seeing her; for her sake he abandoned his family. Georgia is devoted to more than 300 of his photographs; eight of the nine photos of Stiglitz put up for auction depict her.

Photo "Georgia O'Keefe. Hands "was sold in 2006 for $ 1.4 million, becoming the most expensive work of the photographer.
12. "Georgia O'Keefe nude" (1919) - $ 1.3 million.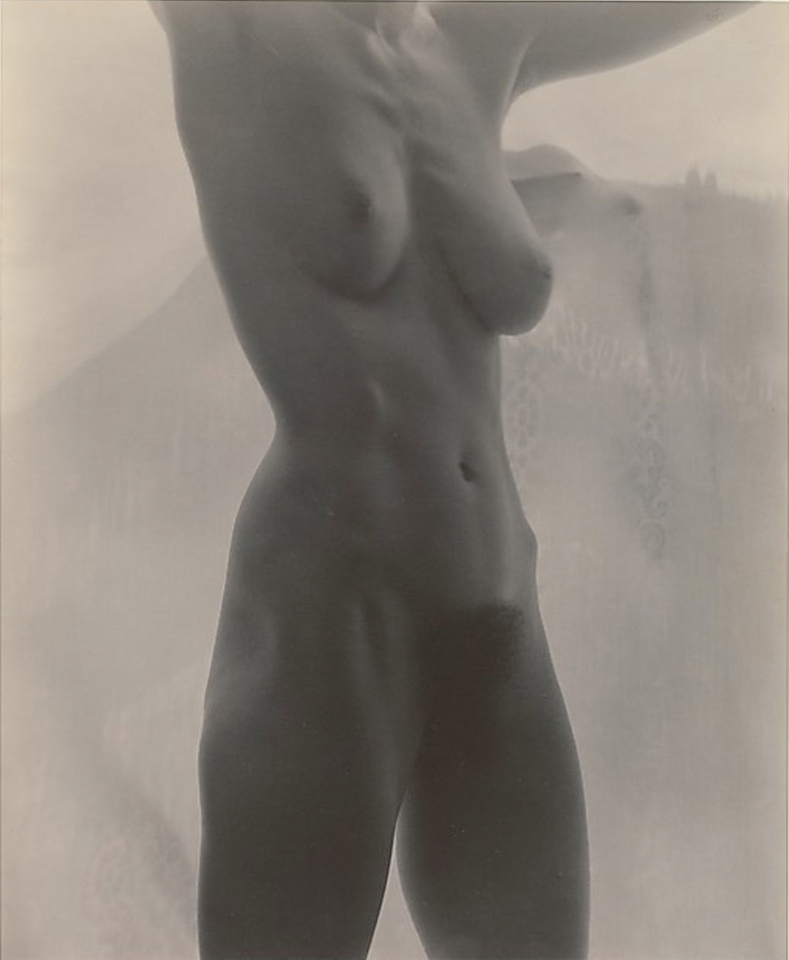 Photographer - Alfred Stieglitz
Again Alfred Stiglitz and his muse, artist Georgia O'Keefe. One of a series of works dedicated to her naked body. At the Sotheby's auction, $ 1.3 million was paid for the black and white image of the far from beautiful Georgia in 2006.
13. "Untitled (Cowboy)" (1989) - $ 1.2 million.

Photographer - Richard Prince
The interest of the photographer Richard Prince in art began with work at the publishing house Time, Inc., where his task was to cut articles from various magazines that the authors wanted. As a result, there were only illustrations and advertising, page after page of images alone. "Cowboy" is a photograph of a photograph, a re-shot of a piece of advertising, which embodied Prince's fascination with American archetypes. Despite its secondary nature, in 2005 the Cowboy was sold for $ 1.1 million.
14. "Dovima and the elephants" (1955) - $ 1.15 million.

Photographer - Richard Avedon
"His portraits determined the image of the American style, beauty and culture for the second half of the 20th century," - wrote about Richard Avedon. The heroine of this work of his is the top model of Dorothy Virginia Margaret Juba, better known as Dovima. In the picture taken at the Winter Circus in Paris in 1955, Dovima is dressed in a black dress with a huge belt. This outfit is the first evening gown designed for Christian Dior by his new assistant, Yves Saint Laurent. In 2010, the photograph was sold at Christie's auction for $ 1.15 million.
15. "Eternal mood" (2014) - $ 1.1 million.

Photographer - Peter Lik
The selection is completed by the same photographer who opened it - Peter Lick. Like Phantom, a black and white version of Ghost, Eternal Moods, a black and white version of Eternal Beauty. The inspiration and place to create an unusual shot was again served by Antelope Canyon in Arizona. More than $ 1.1 million for the photo was paid by the same private collector who bought Phantom.