Interchangeable wide-angle fast lens with a fixed focal length of 37mm and aperture of 2.8 (37 / 2.8). The optical scheme is borrowed from the German company Carl Zeiss (Jena DDR) - the name Flektogon. Mir-1V is an improved version of the Mir-1 lens, which was developed back in the late 50s. Mir-1V was produced in Vologda by the defense enterprise VOMZ, where the index "B" is Vologda.

Specifications:
Focal length: 37mm
Max. aperture: 2.8
Min. aperture: 28
Aperture blades: 10 pcs
Minimum focusing distance: 0.7m
Viewing angle: 60 degrees full frame.
Number of lenses / groups: 6/5.
Resolution: 45/23 lines per mm.
Lens weight: 185 g.

Ergonomics and design:
The lens has a fairly small size and weight. Its weight is 185 grams, which is significantly less than the same Helios-44M (290 grams). Initially, it was intended primarily as a replaceable one for Zenit single-lens reflex film cameras and others with a similar mount. The specimen is made of metal and glass, with a minimum of plastic parts. This speaks of its reliability and durability.

There is a preset aperture ring in front. It has a discrete stroke from 2.8 to 16. In the middle is the diaphragm setting ring itself - it is quite wide and comfortable. Rotates easily. The last is the focusing ring with distance markings in meters. It also rotates quite easily, the rotation angle is about 270 degrees. On both sides of the mark, there is also a depth-of-field scale at different apertures.

The ten aperture blades for which this lens is valued allows it to form a smooth circle over the entire aperture range.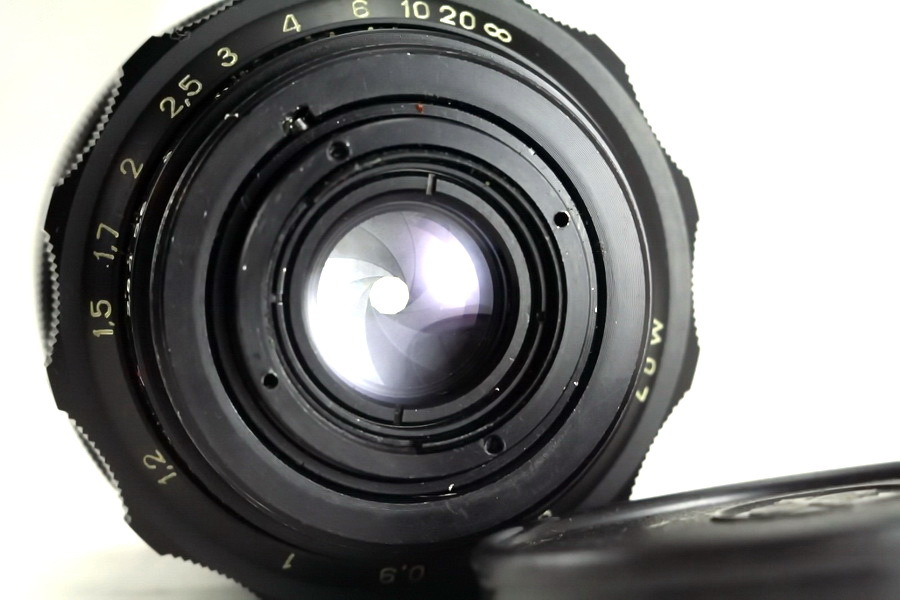 Artistic features and photo examples:
When mounted on popular cropped DSLRs, the effective focal length of the lens is 37 * 1.5 = 55 mm. That is, such a lens is ideal as a standard lens.

The lens really produces a fairly sharp picture. At the same time, the "three-dimensional" image is well preserved. One of the advantages of the lens is beautiful bokeh. It has a neutral color rendition and good contrast, the picture is pleasant to the eye. Mir-1V 2.8 / 37 is afraid of backlight. Distortion, like vignetting, is not observed.



Output:
The lens has good performance. May be an alternative to fixed autofocus lenses for use on modern cropped DSLRs. World 1B produces a fairly sharp picture, while maintaining the "three-dimensional" image well. Cope with various photo tasks.