And again, a brief photo review of the FED-2 camera. Another modification of it.

As promised, I'm moving in reverse chronological order, and today we have a rather rare specimen as our guest.

According to sovietcams.com classification it will be PE0365 and device number 036846.

True, collectors are more fond of a slightly earlier version of PE0360. He has a sleeve around the release button equipped with a lever. We will consider this model later.

Today - a modification of PE0365, which also fully deserves attention.

FED-2 (A) PE0365
This copy has the number 036846.

We will compare this camera with a later modification PE0395 (on the right in the photo), on which I already have a brief overview. You can find my classic review of the FED-2 camera here.



Model PE0365 was produced in 1955-1956 and is in the range of numbers from 027,000 to 065,000. The volume of issue is about 38 thousand copies. In the photo on the left.

The device is relatively rare.

The specific year of production of my copy, I think, I can fairly accurately guess as 1956.

So let's compare the two models.

The PE0365 does not have a sync socket at all.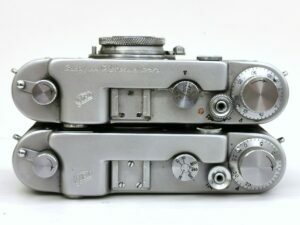 The devices differ in the design of the exposure head. PE0365 has an earlier head - without a central part. A triangular risk is applied to the top panel of the case. Shutter speeds can only be changed when the shutter is cocked.

On the upper surface of the case, in addition to the FED emblem, there is also the inscription "Plant named after FE Dzerzhinsky".



Under the shutter speed head, the case is slightly raised and forms a small podium.

The feed and rewind heads have larger knurling, and under the heads on the back of the case, the PE0365 has screw heads that the PE0395 does not have.


Source fotoussr.ru