The DF rangefinder is a copy of the Smena rangefinder produced at MMZ from GOMZ.

In 1957-58, the newly created Minsk Mechanical Plant named after S.I. Vavilova started producing photo products.

Debugging of production was carried out with the active participation of representatives of the State Optical and Mechanical Plant (GOMZ). And MMZ products at first were based on the assortment of GOMZ.

So MMZ produced modifications (not complete copies) of Smena cameras under the names Smena-M and Smena-2m.



A lesser known fact is that in parallel with these cameras, the DF rangefinder was also produced at the MMZ.

Minsk residents didn't get creative with the name. DF is for sure "Photographic range finder".

The device is quite rare. Years of release and volumes are unknown to me.

Smena cameras were produced at MMZ from 1957-1961.

The range finder would still be useful for the Spring scale (1962-64) of MMZ's own design, but it's not very convenient to use with the Spring DF. Structurally, the rangefinder is designed for the extreme right location of the accessory bracket.

Therefore, probably, the release of DF is limited to the interval of 1957-1961.

Rangefinder DF
The body of the device is metal with a black rough finish. The construction and design are completely similar to the Smena rangefinder from GOMZ. The only difference is in the company name and logo.

Rangefinder weight 72 grams.



The device was delivered in a detachable plastic box. Here is the difference from the Leningrad Smena, which had a leather case.

A camera strap is passed through the ears in both parts of the box and the box is opened by sliding one of the parts along the strap. This principle was in the later Blik rangefinder. As a real user of the Blik rangefinder, I will say that this storage option is inconvenient and unreliable.

On top of the device is a bracket made of light metal, under which a large wheel with high-quality lateral knurling is almost hidden on the right.



There is a distance scale on the front of this wheel. The numbers on the scale are large and easy to read. The minimum mark on the scale is 1 meter.

In front of the rangefinder, of course, there are 2 windows, both are quite large, rectangular, in light metal frames.

Behind - a small round eye, also framed.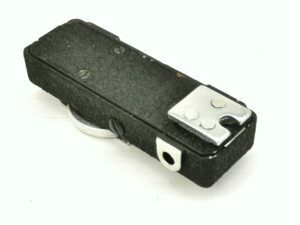 Below is a T-shaped leg for fixing the rangefinder in the bracket for camera accessories.

The picture in the DF viewfinder is tinted and not very large. Comparable, for example, with the FED-5 viewfinder.

The rangefinder spot is quite large. Larger than average in built-in rangefinders. It is rectangular and light.

The double image is clearly visible, it is convenient to use the PD.

That's all for me!

Source fotoussr.ru