A normal high-aperture lens with coated optics for rangefinder cameras.
Produced at the Kiev Arsenal plant. I don't know the exact years of production, but this is the area of 70-71 years.
Was one of two standard lenses on Kiev-5 cameras. The second staff for this device is Jupiter-8NB.

Helios-94 was produced only for external mount Contax-Kiev.

Lanthanum glass grades are used in Helios-94 positive lenses.

Specifications:


Focal length: 50mm
Field of view: 45 °
Frame size: 24 × 36 mm
Number of lenses / groups: 6/4
Working distance - 34.85 mm
Aperture ratio: 1: 1.8
Aperture scale limits: 1: 1.8–1: 16
Aperture blades - 9
Aperture Adjustment - Locking and Intermediate
Aperture preset - none
The closest focusing limit is 0.9 m.
Connections:
lens with camera - external mount Contax-Kiev
for screw-in bits - M49 × 0.5
for slip-on attachments - ∅53 mm
Filter Mount Location: Front
Resolution according to TU (center / edge): 42/24 lines / mm
Light transmittance coefficient: 0.8
Weight - 230 g

The coating of the front lens has a purple tint.



Helios-94 is a rather large lens for a rangefinder. In general, its design is not much different from SLR lenses. Only the bayonet latch betrays its relationship with the Contax-Kiev bayonet, and, therefore, the rangefinder lens.



Compared, for example, with Helios-103, the 94th looks very cumbersome.

There are 2 rings on its body. Both of them are "in their places", controlled comfortably and intuitively. Both rings are covered with a classic ribbed knurling.
Closest to the camera is the focus ring. The full stroke of the helicoid is 270 degrees. The stroke is very long and it is convenient.

The ring farthest from the camera is responsible for the diaphragm. It switches with fixation on the scale values, but between the main values there is fixation on the intermediate values.



Aperture blades are black, matte. There are 9 of them. The petals are not rounded.

For some reason, the shape of the petals is made quite complex. When viewed from the front (photo taken from behind), it seems that the petals are stacked in two layers, although the closed diaphragm shows that there is actually one layer. The logic of such a construction is not very clear, since at all values, except, literally, f1.8, the petals form pronounced nenagons.
I was interested in the compatibility of lenses for external mount Kiev-5 with, for example, Kiev-4, or other earlier models.

So, my copy of Helios-94 did not fit on Kiev-4M.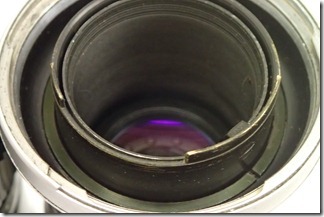 Look at the photo. Kiev-4M, of course, has both an external mount and an internal one.

The construction of the internal bayonet protrudes quite far forward. Especially the latch. Well, the ring with the distance scale too.

In classic external mount lenses, all of these protruding parts fit into the gap between the external mount skirt and the internal mount clutch ring. See how deep the gap is?



Kiev-5 has no internal bayonet, therefore, there are no such protruding parts.

Therefore, in Helios-94, the gap between the bayonet and the inner ring is closed with a washer. This washer is spring-loaded, but its travel is not enough to accommodate the latch.



As a result, Helios-94 can only be worn on Kiev-5, although formally it is just a lens on an external mount.

A conventional adapter from the Contax-Kiev mount to any modern standard will most likely not work for this lens. I can't vouch for the factory ones, and those that craftsmen make from camera mounts will probably not work.
Due to this specificity, there are very few reviews on the use of Helios-94.

Those that exist are mostly positive. The lens is quite sharp and contrasting from the widest aperture.

Actually, I was already going to make an adapter from Contax-Kiev, and now it turns out that for Helios-94 it will be necessary to come up with something personal. Well, we'll have to - we'll figure it out.

Therefore, test shots are expected.