Gizmodo decided to share a list of 13 of the most famous spy cameras used at different times. We offer you to get acquainted with these outstanding, innovative and to some extent even strange devices, without which not a single spy of our time could do.

Automatique De Bertsch Camera


Speaking frankly, even a child can figure out modern cameras: he pointed and clicked. What is so complicated here? However, in 1861, this process was much, much more complicated. Using cameras of that time could mean that the spy would have to carry around actually portable photo labs and run from one dark room to another. And long exposure to secret shooting made it almost impossible. Nevertheless, the French Chambre Automatique De Bertsch camera, perhaps, has never been used in secret operations (information about this, unfortunately, is not available), but its size is only 1.5 inches. This is the real great-grandmother of ultra-corporate cameras, and therefore she deserves mention in this article.

Ansco Memo Camera


Creating photographs became much easier when dry-print technology came into fashion. Cameras such as this 35 mm Ansco Memo Miniature almost instantly became the standard equipment used for private surveillance in the 1920s and 30s of the last century. It was so compact and fast that it easily fit in a pocket and, if necessary, made it possible to make quick and inconspicuous shooting.

Ticka Expo Watch


This pocket watch camera doesn't actually tell the time. It is about twice as thick as real pocket watches (although it is unlikely that the spies of those times using such cameras allowed someone to come close enough to find out), but from 1905 to 1914 there was no better gadget for covert operations. In their best years, such cameras sold for $ 1 with the manufacturer's promise that it "allows you to take pictures without fear of being discovered." At least until you start using the removable camera viewfinder. Any person holding a watch near his eyes will seem suspicious in this case.

ABC Wristwatch Camera


What could be more suspicious than having a seemingly ordinary watch with an optical lens, buttons and various toggle switches instead of the hands and dial? Therefore, the ABC Wristwatch, made in Germany in 1949, could easily be recognized as a spy gadget if its owner did not wear long-sleeved clothes. However, for neat spies, this camera was an indispensable tool. At least until no one asked them for time at the most inopportune moment.

Echo 8 Lighter Camera


Perhaps the camera-clock might seem to some as ordinary window dressing. May be. But there were those who really worked and at the right time fulfilled their task. For example, lighter shaped cameras like this Echo 8, created in 1951. She actually allowed her to smoke cigarettes. Spy smoking was a great legend. The camera worked at the moment when the device was lit to light a cigarette.

Tessina 35


An ideal helper and an alternative to the lighter camera above is the Tessina 35 camera. It is compact enough to fit in a cigarette pack: grabbed a cigarette, imperceptibly took a picture, and also used Echo 8 for fidelity. A case the size of a pack of cigarettes had tiny holes that were used as a viewing hole. For credibility, a few fake cigarettes have been added. However, if desired, and for reliable cover, this camera could be placed in a real pack of cigarettes. And if you remove these fake cigarettes, then inside will be something like this:


Really cool spy camera. But even more impressive is the fact that its production lasted as long as 38 years - from 1957 to 1996.


Minox

This spy camera is a real workhorse. According to the information of the International Museum of Espionage, before reloading its resource is designed for 50 shots. It is quite compact and easy to use and allows you to make really high-quality images. Perhaps her design will seem to someone too defiant and noticeable, but the camera was carefully masked. For example, hiding it in a regular brush for outerwear or shoes, as here:


In the 60s and 70s, it was an indispensable tool (despite the fact that it was created back in 1937!). The Minox camera is currently one of the most famous spy cameras in the history of this profession. Although it is hardly suitable for modern espionage. By the way, a few years ago, Minox created a modern digital version of this camera, which anyone can buy.

Pigeon camera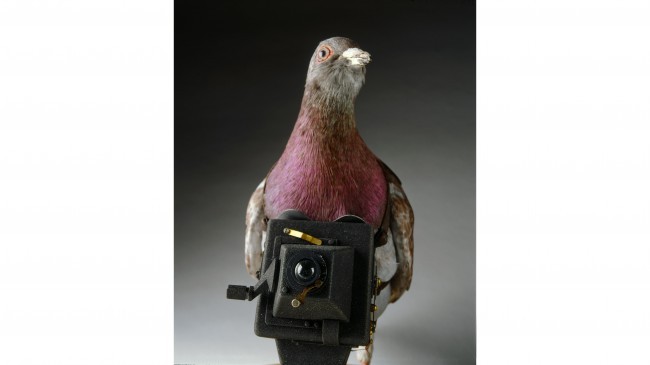 Today we have access to satellite imagery and stealth aircraft for invisible surveillance. In the 1940s and 50s we had ... pigeons. During world wars, it was pigeons that performed up to 95 percent of missions related to covert surveillance of the enemy. Automatic cameras were attached to their necks, taking pictures of a potential adversary.

Wall Tracker


No, this is not a monopod for selfie photos from the Cold War. This special Stasi "robotic" camera was used by East German spies in the 1980s to photograph through tiny holes in the walls.

Camera button


Your cloak keeps your body warm. Spy Cloak - Keeps secrets. Agents of American, Soviet and European intelligence modified ordinary clothes to hide compact cameras. And the best place for this was served by seemingly ordinary buttons, whose size was ideally suited for mounting lenses. The picture above, for example, shows a hidden button camera that was used by KGB intelligence agents in the 1970s, but other countries' intelligence services also had their own options. However, according to the International Museum of Spying, almost all of these cameras worked the same way. When it was necessary to take a picture, the agent pressed a button on the control panel located in his pocket, and the camera imperceptibly saved the desired image. Very secretive invention. True, until they begin to search your outer clothing.

The infrared camera in the diplomat (case)


Not all spy cameras were portable. For example, this Stasi camera in the image above was so large that it required the use of a paper case. Its bulkiness made it a very inconvenient tool for a spy (enemies are everywhere, after all), however, in the 1970s and 80s it was a very popular gadget, as it used infrared film and a flash invisible to the human eye. The perfect combination for taking pictures in pitch darkness.

Camera keychain


Almost every CIA agent in the 1970s carried such a compact and inconspicuous camera. At least if I didn't forget to bring along a bunch of keys. In this case, big problems could arise.

Microscope Cameras


Perhaps the most impressive cameras, besides the pigeon ones, are of course the cameras intended for microscopic shooting. This method allowed us to create so tiny photographs that it was required to use a microscope to study them. Very compact and inconspicuous cameras made it possible to take photographs of the most important secret documents completely readable in size of 1 mm. Such a tiny size of the pictures made it possible to send them even with ordinary letters (it is almost impossible to see them with the naked eye) or to hide them in clothes, for example, in cufflinks.

This method of covert documentation was widely used during World War II, the Cold War, and even in cases where it was required to steal information through the impregnable Berlin wall. In addition, then the microscopic printing method was to some extent the progenitor of modern photo compression: microcams were often used with pigeons. Just imagine that an ordinary bird can carry an incredible amount of classified information.