And you wonder how the frames of the masters turned into printed cult photos? Pablo Inirio, a photo lab master working for the Magnum Photos editorial office in New York, personally worked on some of the most famous images of the photo agency. The pictures with its markup, appearing on the Internet, give an idea of ​​how much attention was paid to each image in a dark room, so that the master's frame turns into a masterpiece.

Sarah Coleman from The Literate Lens writes that in a small darkroom Inirio is full of such pictures strewn with marks. And among them there are a lot of images that are among the most famous in the history of photography.

Above is the famous shot of Dennis Stock, which captures James Dean in Times Square in New York in 1955. The test print from above shows what work Inirio has done so that as a result the photo becomes what the audience knows. With lines and circles, he designated the places in the frame that were subject to lightening and darkening; digits scattered throughout the image indicate different exposure times.

Coleman doubts that this kind of magic will persist in our digital age:
"Over the past fifteen years, almost every photographer I interviewed has poetically described the impressions of the first" magical "process of image development in chemical processing. It's worth asking whether today's young photographers can talk with the same admiration about how they calibrated their monitor for the first time. "
For comparison, the portrait of Muhammad Ali, taken by Thomas Hepker in 1966: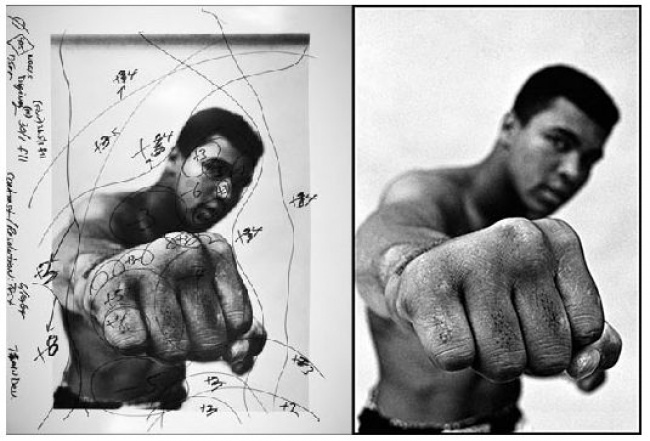 Portrait of photographer Henri Cartier-Bresson, taken during the March to Washington. Photo by Bob Enriquez:

Portrait of Audrey Hepburn. Photo by Dennis Stoke:



Back in 2009, two photos appeared on Magnum Photos Twitter, in which Inirio was captured at work. The inscription reads: "Pablo Inirio is our printer in a dark room."

Inirio continues his business in an era of rapid changes in the industry. But it is not known how long such a painstaking art of processing can last in the age of digital photography.